Mária G. Balážová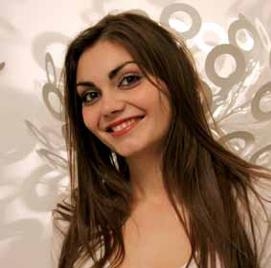 She was born in Považská Bystrica in 1984. She graduated at School of glass making and glass ceramic in Lednické rovne, Division Art glass forming, designing and Art painting under the guidance of Professor Mgr. Art Jozef Kolembus. The study was aimed at glass design, art work with precious metals such as gold and platinum. The very specific study was glass cutting, glass painting and combination of painting techniques.
She participated at Simposium of the youth in glass cutting in Poltar 2001. She was engaged in the Exhibition of illustrated photography, Moods in Považská Bystrica 2003 and in Exhibition of glass solitaire in Lednicke Rovne 2002. She was awarded as one of the best young talented Artist and belong to 21 best Artist in Slovakia …
Maria G. Balazova became the designer for Silvermoon and Millefiori in Bratislava in the years 2007 and 2008. From 2011 she became the designer and painter of the Saloon Vážka Gallery in Bratislava. Maria´s Artwork is closely connected with Glass, it´s metamorphoses, gradation, refraction of colourful spectrum. Most of her Paintings are made by mixing of techniques, mostly painted with acrylic and oils on canvas and wooden sheets. She has her own favorite technique consisting of drawing by oily pastel into the acrylics and adding glass powder or glass or different materials. At present she has oriented her Paintings to the abstractionism which is determined by her fresh uncorrected point of view. During the years 2012 -2014, she has succesfully finished the tour via US in the cities such as New York, Washington D.C., Miami, Chicago etc. Last exhibitions took place in her mothercountry in Audi Exclusive Gallery in Bratislava and in the Presidential Palace of the President of the Slovak republic. After move to Maui, Hawaii, she has the exhibition at NAPUA GALLERY at Grand Wailea – A Waldorf Astoria Resort.
Last Exhibitions
"Art in Touch" Embassy of the Slovak republic in Washington D.C. 2012
Benedictine University of Chicago, Chicago 2012
" Art in Touch" Dotyk s umením, Slovenská sporiteňa a.s. 2012
Tyson Gallery, Washington D.C. 2012
Christmas Lounge SPP, Bratislava 2012
Czech-Slovak cultural Club Miami 2013
Nova Southern University, Fort Lauderdale 2013
National Bohemian Hall, New York 2013
Grasalkovič Palace – Presidential Palace, Bratislava 2013
Audi Exclusive Gallery, Bratislava 2013
Grasalkovič Palace – Presidential Palace, Bratislava 2014
NAPUA Gallery Grand Vailea – Waldorf Astoria Resort, Wailea 2015-2016
Summer Art - The Domain Hotel and Spa, Kingdom of Bahrain May 2016